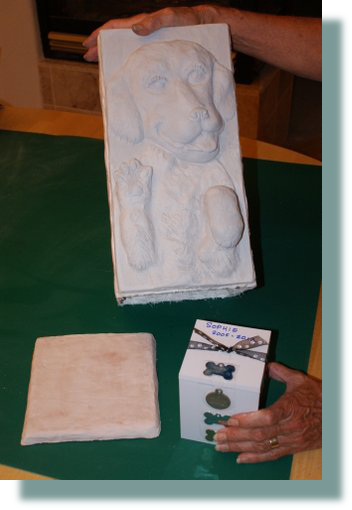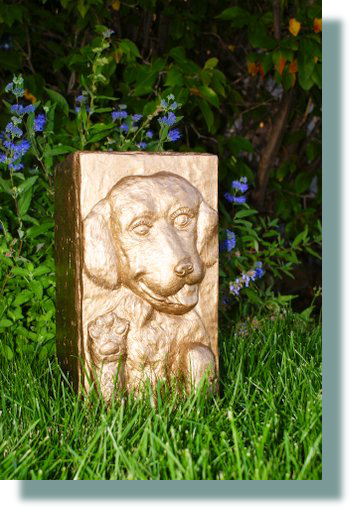 Pet Memorials
When one of our beloved dogs died, we faced the question that is familiar to anyone who has gone through the same experience: what to do with the remains?
Having decided to cremate our dog, none of the existing options seemed palatable (scattering the ashes, burying them on our property, or keeping them in their little plastic box on a shelf somewhere). We searched high and low for a suitable pet urn but we found that nothing like what we had in mind even existed. Our vision was of a tasteful yet accessible memorial for our pets. But there's nothing in this middle range, nothing that says with quiet dignity, "Herein lie the remains of my beloved pet."
So we decided to make something truly different, and that's how Starlight Sculpture Works was born.
After we started telling a few friends about our concept, we were astonished at how many people said "Perfect! I've been looking for just such a product because I've been saving all my pets' remains for years in all their little boxes, and I never knew what to do with them. I love the new and attractive way to memorialize them that you are offering!"
Any of our pieces can serve as a unique and tasteful memorial to your pet. If you send us the crematorium box containing your animal's ashes, tags, photos, or other small memorabilia, we will insert them into the box and seal it permanently. Even if you don't send us any tangible items, we can customize the sculpture of your choice and emboss it with your pet's name and dates.
If, in the future, you would like for us to add mementoes or cremains of additional pets, we would welcome your sending the original sculpture to us; we will open it, add your new materials, re-seal it, and return it to you for a nominal additional charge. Please contact us for details.
Our small and medium boxes are large enough for all dogs, cats and other household animals. And yes, our large box is even big enough for your horse's remains, should you decide to cremate one of your favorite equines.
We can also create any of our pieces without the sculpture but with a simple textured finish. We will permanently affix a photo of your pet thereon, embossed as described above.
We look forward to helping you preserve your cherished companion animals' memory in a tasteful sculpture for you to display proudly forever.