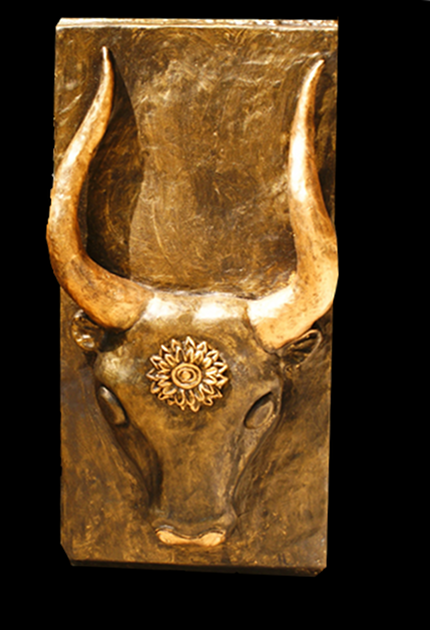 Tavros the Greek Bull
Imagine the turmoil in Europe more than 4,000 years ago, when tribes of people roamed thousands of miles looking for a place to settle. Some failed and disappeared with hardly a trace. Others flourished and became the foundations of Western civilization.
The Minoan culture thrived around 2800 BC on the island of Crete. The Minoans grew wheat, barley, grapes, and olives; they raised livestock including cattle, sheep and goats; and they developed faster sailing ships than the world had ever seen. They were affluent enough to develop intricate cities with palaces, and Minoan artisans made beautiful cups, vases and jewelry. They also loved sports, especially bull leaping, in which both young men and women grabbed a wild bull's horns and flipped over its back while performing stunts. The bull was worshipped as a symbol of fertility and strength.
Around 2000 BC small groups of Mycenaeans may have migrated into Greece from southern Russia. They built huge rock fortresses and kept large herds of cattle and horses. They were a warrior society in which both women and men participated. They traded with other Mediterranean groups including the Minoans, becoming very wealthy and eventually overriding the Minoan civilization entirely. Homer described Mycenae as "abounding in gold." The Mycenaeans gave the later Greeks many of their ideals, such as democracy; myths such as the Odyssey and the Labors of Hercules; and heroes such as Clytemnestra and Agamemnon. They also created spectacular works of art such as this extraordinary bull's head vase, which exhibits a strong Minoan influence. It dates from about 1600 BC and was discovered in the royal tombs of Mycenae.
Eventually, however, the Mycenaeans launched the Trojan War, which drained their treasury and caused the entire early Greek culture to collapse in about 1150BC. The ensuing Dark Age lasted for 400 years, followed by the rise of Classical Greece.
The Mycenaean bull is a symbol of the importance of world trade, which has been significant from the earliest civilizations to the present day. In western society, the bull has also come to represent strong or improving financial markets, while the bear represents weak or declining ones.
Tavros, the Greek Bull has been lovingly recreated by Starlight Sculpture Works for your enjoyment. Take one home today, or pair it with Sitka the Bear for an impressive gift representing the competing forces in today's turbulent stock market!