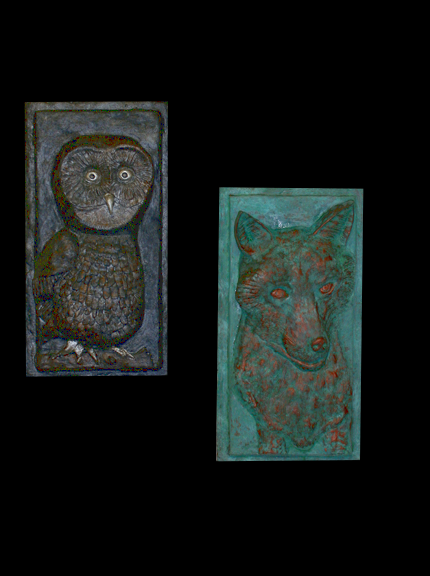 Wildlife Portraits
Athena the Owl
Owls are among the oldest known land birds, with fossils dating their ancestors back 60 million years and possibly to the age of the dinosaurs. They have long played a role in human lives: stories about owls exist in mythology from cultures all around the world. The ancient Greeks viewed owls as symbols of good fortune and wisdom, since they were the favorite bird of the goddess Athena. In India, they are associated with Lakshmi, the Hindu goddess of wealth, and are believed to bestow intelligence and insight. Indian traditional medicine also used various parts of the owl to cure seizures, rheumatism, and vision problems.
Today, owls represent the freedom of flight and are beloved for their silent beauty.
Kit the Fox
Folklore and mythology from around the world feature the fox, a skilled hunter found on nearly every continent. Foxes are often associated with cleverness and trickery, as in myths from Mali, Finland, and the Americas. In the Blackfoot and Apache legends, the fox tricked the gods by stealing fire to give to the people. Foxes were viewed in medieval Europe as wily rogues; the word "shenanigans" may come from an old Irish phrase meaning "I play the fox."
Foxes play a prominent role in the Shinto religion of Japan, where they are the messengers of the spirit Inari. Inari represents many important aspects of Japanese culture, including rice, tea, and sake. In addition, Inari is the patron spirit of agriculture, industry, prosperity, and success. As Inari's helper, the fox traditionally helped people to achieve worldly success and is represented in shrines atop the corporate headquarters of some Japanese companies.
May our rendition of Kit the Fox bring prosperity and the spirit of nature into your life.