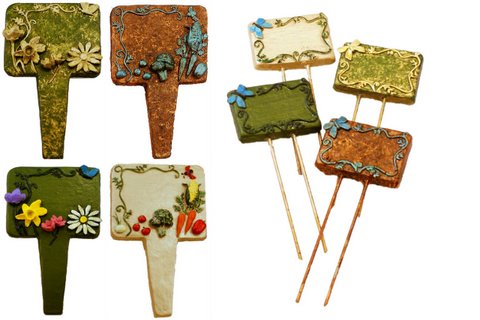 Garden Markers
Tired of those cheesy little plastic plant markers that break, fade, disappear, or blow away entirely? Starlight Sculpture Works' new line of garden markers to the rescue!
We are pleased to offer two sizes of garden markers: large ones (6"x 10" x 0.5") that can be used as "Welcome" signs, to mark large plants, or for large gardens; and smaller ones (3" x 6" x 0.25") that can be used to mark rows of annuals or bulbs whose tops die back in late spring.
Each marker comes in all of the four finish combinations shown. We can also make them in any combination of the finishes shown on our "Finishes" page, by special request, at no additional charge.
Each marker comes with two weatherproof labels on which you can write any information you wish. Simply use a Sharpie or other waterproof marker. Our pieces are all sealed with a weather-resistant and UV-resistant finish and, under normal garden conditions, should last for many years!
These are just some of the uses for our garden markers. For example, they can also be used as a tasteful way to mark the final resting place of a deceased loved one…. Or …. ? Please let us know how you have used yours by sending us a note on the "Contact Us" page of this website!